Working Together in a True Partnership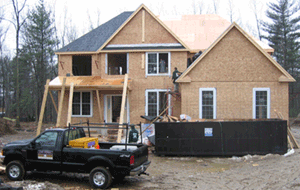 Everyone has a few simple expectations for their building project - quality craftsmanship, professional management, creative flexibility, and doing it all at a reasonable price.
Why is it often so hard for homeowners to find a builder who can deliver on these expectations?
If you hire Two Storey Building for a project, we will work with you in a true partnership towards your goals and will work as your building partner to understand your needs, concerns and expectations.
At Two Storey Building, we use our superior project management background to proactively deliver on these expectations. We are constantly looking for great locations for our custom homes. We leverage the latest technology in our field to manage our business, to provide timely and accurate estimates and to develop a comprehensive plan for managing your project. An estimate written on a notepad won't do in today's fast paced ever-changing world.
We have relationships with a multitude of subcontractors in every building field. We will only work with reliable, quality conscious professionals with whom we share a mutual respect. As a result, we are able move quickly to solicit and receive bids and then select the best supplier for a given project who will deliver quality craftsmanship at a reasonable price.
We know a building project is often a creative expression of a long held dream. We understand that offering flexibility and vision along with our professional management is the best way for Two Storey Building to deliver on that dream.
We are fully licensed and insured and will always supply that information for you. We only work with subcontractors who will do the same. We always follow the state and local building codes. We won't cut corners and risk the quality of you project to try to save money. We do however work with many building suppliers and competitively bid projects in order to receive the best possible pricing. We are extremely safety conscious and will take all necessary precautions to insure that we run a safe job site and minimize the risk of injury for anyone on the site. We are also very environmentally concerned. We try for a minimal disruption of any job site and cut as few trees as possible. At the end of the job we try to return the site to its natural state. You will see that we recycle all possible building materials and keep a very clean job site. Whenever necessary we will have a dumpster on site to facilitate these goals.