Green Building
Project Managment System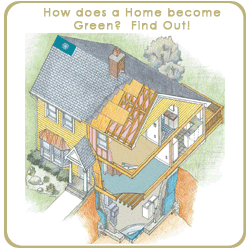 Two Storey Building is committed to utilizing and promoting green building technologies, procedures and products wherever possible. This is not only smart, responsible and productive in the long run, but also relatively easy to do if we educate ourselves, make informed choices and follow some simple rules and standard procedures. Building Green really is simply building better, building more efficiently and having a concern for product choices and waste reduction.
Two Storey Building built the first Silver LEED certified home in Massachusetts,many Energy Star Certified and Stretch Code certified homes and Doug Storey has received the Certified Green Professional(CGP) designation from the NAHB. Two Storey Building is registered with the EPA and is a Lead Safe Certified Firm under the new Renovation, Repair and Painting (RRP) Guidelines issued by the EPA. Doug, Bill and Mat are all Certified Lead Renovators.
Some startling statistics to consider:
The building industry consumes 40% of the world's energy and material resources.
The average U.S. home uses 15,000 board feet of lumber, the equivalent of harvesting an acre of trees
The heating, cooling and lighting of buildings consumes 36% of the energy consumption of the U.S.
It is estimated that we now spend more 90% of our time indoors - and the EPA rates indoor air pollution among the top 5 risks to our health
Construction and demolition debris accounts for 20% of all landfill waste in the U.S.
85% of all energy needs in the U.S. are supplied by fossil fuels.
85-90% of all construction debris is recyclable.
The typical house in the U.S. in the 50s was 1100 square feet. The typical house in 2007 is 2800 square feet.
(Source - Green Remodeling - David Johnston and Kim Master, 2004)
We all live and work in buildings. We all need shelter to survive. We all want a safe home. Green Building is a philosophy that attempts to minimize the impact of our actions on the environment and the world in which we live, while creating long lasting, efficient, healthy homes and buildings.
Our Commitment to our Customers
We will utilize green building practices and wherever practical and where it makes sense in your project
We will incorporate smart building science technologies in your project
We will strive to reduce waste and recycle
We will offer ideas, solutions and product choices that are more energy efficient, less wasteful and less harmful to your environment
We will encourage all of our subcontractors and suppliers to do the same
We will respect your decisions about your home
We all live downstream, downdraft and down the street from building projects and from each other. We must do our part to help minimize the impact of the building industry. It is our responsibility to ourselves, our children, our neighbors and our future!