Our Approach to Project Management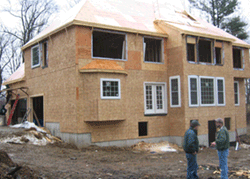 At Two Storey Building we strive to manage each project professionally and predictably so that we take much of the anxiety out of the process for you. We understand that once we have clear direction from you on what you want to accomplish in your project, the most important factor thereafter is consistent daily communication on the status of your project.
We'll meet with you as many times as is necessary to clearly define the parameters of the project and develop your final plans. If you are working with an architect we'll meet with that person as well and quickly get up to speed with their vision. If you need plans we'll work with you to develop them either with an architectural partner or for more straight forward projects we can handle the design/build portion of it for you. Once we have final plans we'll take the necessary steps to pull the building permit. Once we have a building permit in hand we can more accurately schedule the project.
We'll give you a written schedule for your project. We won't promise that it won't change because it will but we will make you aware when it does change. We commit to updating you daily, both in direct one on one conversations at the job site and in phone conversations or email (which ever you prefer). We then will schedule a regular weekly or bi-weekly meeting with you to review the status in more depth and to review the update schedule, any change orders and the work planned for the week ahead.
If we do encounter an unforeseen situation that requires a decision on your part, we'll document it in a change order and ask you to sign off on that decision. We believe creating a written paper trail of all decisions is the best process for all of us. While changes may result in additional costs, this is not always the case. We may simply need to know a location of a wall outlet. However, if there is an additional cost involved, we will discuss it with you first and get your approval before we incur that cost.
We'll also review the budget with you at each regularly scheduled meeting and request a progress payment for the work in the week ahead. All of your payments will be tied to work that will be completed within a specific time frame so you know you are paying for performance that is being completed.
Near the end of your project we'll begin to compile a punchlist of items to be completed. We'll ask for your input in compiling this list and will give you a copy as well. As we complete items we'll cross them off and likely add a few new ones. Our goal is to be completely finished with the punchlist when we pick up our tools and leave your project. However, it is not unusual to come back later to touch up a few small items.
We always warranty our workmanship for one year and will come back to address anything that may come up during that time period. We also work with you to ensure that manufacturers stand by their warranties as well. Our goal is your 100% satisfaction with our work and to have you become a passionate advocate of Two Storey Building to your friends. I think you'll be amazed at how hard we will work to deserve your support!