Testimonials
I am very satisfied with Two Storey and there work, ther scheduling, etc..They are a little expensive when compared to other contractors, but they do as they promise, they deliver great work and paying a little extra for that is worth it. No hassles and if any problems afterwards they stand by their work/product. I will always recommend them when asked, will tel them they are maybe a little more exp. but the take care of it and you have no hassles. Besides that the peoplee they employ are very nice nice to work with, they show flexiibility throughout the job (within reason) and our next job (garage) we will definitely invite them again. Nothing but praise.
Gjalt Kuiperes, Waban

TSB employees and contractors were efficient, friendly and courteous. TSB provided effective communication on the tradeoffs between cost and quality. TSB expended special effort to complete the project in time for a social event we hosted at the house even though that wasn't part of the contracted time line. We would certainly use their services and recommend them to friends.
Jeff Duratcha and Bob Davis, Bolton

"We are VERY happy with Two Storey Building. They were very easy to deal with from inception, through change orders, through completion. Great project management led to quick project completion without sacrificing quality work. I would love to build another home with them if I had an opportunity."
Tom Parker, Concord

"The bathroom looks fantastic….just fantastic. I couldn't be happier with the results.
And a big shout out to Doug, Bill, and your crew……your professionalism (on every level I can think of) was outstanding. You made it painless and even fun (trillions of decisions notwithstanding!) :o)"
Chris Rudomin, Bolton

"We started with a solid vision and concept, and found that the design/build creative process allowed us to achieve that vision, consider its implications, and make it real. After several meetings and planning sessions with Steve the architect and Doug the builder, to lay out and conceptualize the many important details of the finished space, we ended up with exactly what we wanted and envisioned. I don't think we would have ended up with as nice a finished space and as close to our original ideas without the design/build process."
Tom and Susan Oblak, Bolton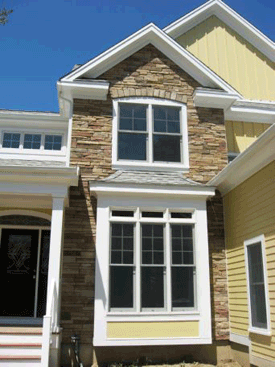 "Two Storey Building was fabulous, and we would highly recommend them to you. The work is extremely high quality. Dave, their lead carpenter, is a perfectionist in the best possible way. We had some challenges because it is an older house and we were trying to get access to a new basement area in the least disruptive way. Dave masterminded the stairs which had to turn both at the top and the bottom to fit in the available space.
Cost control was quite good. If anything looked as if might come in higher than expected, Doug always discussed things with us and offered workable suggestions. Plus he always answered his cell phone and that was important to me. The additions blended seamlessly with the existing house. Doug was even able to fix our basement water situations with a strategically placed perimeter drain installed and planned when the foundation was poured.
I could go on and on, but one main point I want to stress is how the Kitchen Associates folks and the Town of Concord inspectors were impressed with Two Storey as well. They were very pleased with the thoroughness, detail, and quality of work."
Pat and George LeVan, Concord

"This project was an absolute success from start to finish. This was a "design/ build" project, so Doug, the architect, my wife and I were together at each planning meeting. While time consuming, this level of planning insured that Doug new exactly what we wanted, and, conversely, allowed us to understand exactly was and was not possible with our existing site and budget. Doug took our budget very seriously, and remained committed throughout the project to holding the final costs to the budget we had initially set. From the initial stages of the project, it was obvious that Two Storey was committed to quality, professional work. Two Storey Building has high standards for all of their subcontractors. Doug and Bill held regular, formal monthly progress meetings with us throughout the project. These kept us abreast of how the job was progressing, and also allowed us to make the decisions we needed to make in a timely manner. Doug and Bill were extremely helpful with suggestions throughout the project, and let us know what changes were within our budget. When we met Doug, he told us "We're different". They absolutely are. Doug and Bill were absolutely honest and forthright throughout the project. They were always available for questions, and answered all phone calls and emails promptly. They showed us each invoice and subcontractor proposal, and told us up front how much their fee was going to be. They made sure that they eared their fee by managing each phase of the project professionally, and making sure that the entire project was build with a degree of pride and craftsmanship I did not believe existed any longer. When I shook hands with Doug at the final meeting, I told him that he had changed my view of what a contractor could be. In short, if you have a home improvement project, don't even think about hiring another contractor. Two Storey Construction will provide a high quality job at a competitive price, and do so professionally, courteously, and with pride. We recommend them without hesitation."
Todd Forman, Holliston

We engaged Two Storey Building (Doug and Bill Storey) to renovate our basement. It is a large project with a lot of nice design features being finished in the basement of our home and Two Storey have done a wonderful job working with us on all aspects of the project. They are extremely professional and articulate about what the project can entail and how they are going to execute against the plans. They were very good about working with us to come up with the design that met our needs and that incorporated the design elements that were so important to us.
They do a very good job projecting the costs and managing the process so that there are no surprises when the work and the budget need to remain aligned. Where there are cost questions they present alternatives when they can to make the project meet cost parameters as much as possible. They are very courteous and clean and the craftsmanship has been excellent. They are very good about remaining on schedule.
We are very happy with Doug and Bill and the entire crew at Two Storey building. I would recommend that anyone use them for an entire home or a renovation. They have a good set of craftsmen and good subcontractors with whom they work and they could handle any size construction project.
Steve Akers, Bolton

"Two Storey Building is great at communicating effectively and returning phone calls and that is very important"
Deb Pierce, Harvard.

"Doug & Bill, We want to thank you for the wonderful job that you did renovating our house. The end result was much more we could have ever imagined when we first began! We are very appreciative of all your efforts and it was a pleasure working with you and the entire crew!"
Marcie & Sergio Alvarado

"I am happy to positively recommend Two Storey Building. My residential renovation project was a major and expensive undertaking, and I needed to have complete confidence and trust in my contractor. Two Storey Building provided me with that confidence. What totally impressed and amazed me was that every day they were expected, they were here, on time, working competently and efficiently, cleaning up after themselves, concerned about my understanding and being comfortable with the progress of the job.... I really can't say enough positive things about their work, and level of service. Additionally they didn't just do the job and then disappear but have helped me out with smaller things after, above & beyond the call of duty afterward. I unequivocally, and without reservation highly recommend Two Storey Building for your residential project, and if I had to do it all again I would hire them again. 98% of the process filled me with joy and 100% of the result."
Anna Dunwell, Newton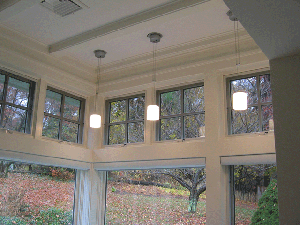 "We selected Two-Storey Building after extensive comparison of six general contractor/builder bids. Doug Storey of TSB provided the most detailed bid, and he was the only builder that we found to be was effective in modifying their proposal. He also provided the most helpful recommendations to our plans for the structure. However, Doug's proposal was not the lowest cost one. However, we dared not select a builder on cost alone since we recognized that structural flaws in our otherwise attractive home would require above-average skill and experience. The TSB response to our dilemma was to show great creativity and determination to make their proposal affordable by setting a far more reasonable payment schedule than the other bidders, by adding at no cost extensive work that allowed us to remain in the house through-out the project. We now consider TSB to be the most important decision we made in undertaking what has become a very successful and satisfying project."
Larry Licklidder, Newton

"Doug did a remarkable job on my kitchen remodel as well as performing even better on a kitchen remodel of a shared client.
TwoStorey Building is one of the few contractors I would reccomend to my family in the area knowing that Doug and company will take the care that I would demand on my own projects. These are guys that actually care and you can't put a price on that today!"
Service Category: General Contractor
Year first hired: 2004 (hired more than once)
Top Qualities: Great Results, Expert, High Integrity
LinkedIn Recommendations
Russ Karlstad has endorsed your work as Owner at Two Storey Building.

"Your professionalism, integrity and superior craftmanship were evident throughout the project, and we couldn't be happier with the end result. Dave and Matt should be recognized as well, as they brought their individual skills to the project.
Thanks, too, for your openess to our suggestions and collaborating with decisions that needed to be made as navigated through the plan. We would recommend you with full enthusiasm and would work with you again should we decide to pursue further renovations."
Denise Miller, Bolton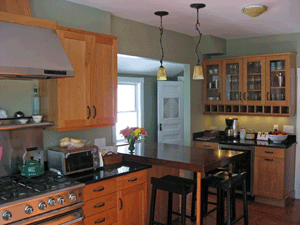 "Two Storey Building is very flexible and definitely helps facilitate the design process."
J. Beaton, Bolton

"We love our house!"
The Russells, Sterling

"Pure professionalism through the process, we are 100% satisfied and will recommend your services to all our friends."
P&L Dufresne, Oxford

"We purchased a new home from them in June of 2005. When we first came upon the home in Sterling, there was only a foundation. We met with Doug and Bill several times and decided to move forward with the plan they had. We were able to make changes along the way and pick all final products and colors. Overall, we couldn't have been happier and we have nothing negative to say about them. They were a pleasure to work with. Everything was completed on schedule. In fact, we actually hoped they would be a little late, but they weren't! There weren't any surprises in terms of hidden costs. We were given prices on any changes or upgrades ahead of time and we were charged exactly what we agreed upon. We didn't have to make a lot of changes because they included so much in the base price. The quality of workmanship and materials was excellent. Both Doug and Bill were extremely prompt in returning messages, answering questions, and showing up on site when we requested a meeting. We moved into the home in August last year and any problems were minor and resolved immediately upon bringing it to their attention. If we were going to start from scratch and build another home, Doug and Bill would be the ones we would call."
Jon Shuman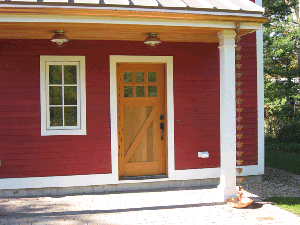 "I am very happy with the workmanship of my project which could have been a nightmare without a good general contractor."
R Karlstad, Bolton

"These guys were great, honest, hardworking and they provided solid advice along the way. They were diligent about telling us when things would effect budget and timing and always offered good solutions/advise when problems arose. These kind of projects can be really stressful at times but Doug and Bill's professionalism made it as painless a process as possible."
C. Parks, Northboro

"I have very good feelings about Doug & Bill and Two Storey Building. I wouldn't hesitate to use them again if the need arose and I recommend them often."
L&G Burns, West Boylston

"I used Doug and Bill for some renovation work on my home and am extremely pleased with the results. As far as timeliness, quality and follow up I would give them an A+ on each Doug and Bill are extremely customer oriented."
J. Wigginton, Uxbridge

"We have been extremely impressed, not only by the work you've done, but by the organization you've shown and your willingness to guide us through the whole process. Thank you very much."
D. Small, Bolton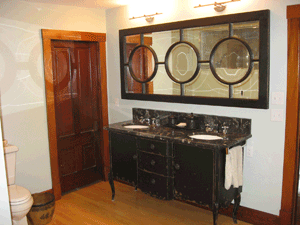 "Timeliness - We broke ground on 3/24 with the schedule being that Doug's work would be done by the end of August. We hit it dead on. When I first met Doug I found out that he uses Microsoft Project to track progress. As we had had a really bad experience with scheduling with another builder I was very impressed that he had the wisdom to use such a tool to keep track of things.
Performance to budget - Exceptional, to a fault. There were two different areas where there were cost overruns and Doug ate the overrun. I wasn't happy about that, but he insisted. The only other area where there was an adder we knew up front that there were going to be surprises uncovered when we peeled the siding off the old part of the house. The adder was reasonable. I can also add here that we worked for six months with our architect in the planning stage so things were very well defined before we started.
Responsiveness and Communication - second to none. He is very available via email and cell phone. He keeps scheduled appointments. Afterwards, agreements are documented.
Quality of workmanship - Doug's two partners, Bill and Dave, who do most of the finishing work and on site management are very, very good. Dave does cabinet grade finish work and has experience in a very broad number of areas. Doug engages only the best subs available. The house is plumb and square to a degree that I did not believe existed anymore. The plumbing sub that he used I have retained for all of my subsequent plumbing work. Where any issues have arisen after construction was completed both Two Storey and the subs have made good. Even more than a year after completion.
You can't go wrong with Doug."
Mark Eisenberg