We recently remodeled an attic space that transformed 300 square feet of storage space into beautiful useful finished space. Int his case it was intended for a play room and recreational space for children but it could also be used for a extra bedroom suite or a home office.
This space was a raw, unfinished 100 year old attic! It did have walk up stairs which is necessary for a finished space so that was a big plus. It also had several windows which is also necessary, but we needed to change them out to make them larger, energy efficient and sufficient for emergency egress.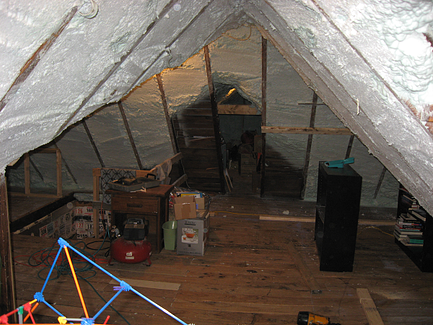 We started by designing the space to meet the needs of the occupants. We needed a finished space and also two storage areas. Because the house had several gables heading in different directions we were able to frame off two of them for storage and leave three for the finished space. Once the design was acceptable we began construction.
We started by spraying polurethane foam (SPF) insulation throughout in all the rafter bays and wall cavities. SPF is great for an attic and creates a tight building envelope and well insulated energy efficient space. We were able to add 4-5 inches of foam insulation which equates to an R20 - R25. The floor was already insulated to R30 which we left to keep the space below well insulated.
Next, we covered the wide rough floor planks with Dricore, a product that incorporates a vapor barrier with an OSB based underlayment. we often use this product in basement renovations and found it to provide a flexible subfloor in an imperfect rough attic environment. This didn't make the floor perfectly level but hid all the obvious imperfections and created a base for the engineered floating hardwood floor we installed above it. The floor was glued together on the tongue and the entire assemble floats together. The engineered floor was installed over a quality floor pad to prevent squeaking and soften the floor.
A floating floor doesn't move around. It does allow for minimal expansion and contraction that occurs in any hardwood due to normal changing humidity and temperature conditions. Base trim around the perimeter hids the expansion joint.
This attic had sufficient head room in the middle of the gables but had pitched rooflines than ran down to approximately 40" at the walls. We decided to put beadboard on the walls and wallboard on the ceilings to break up the walls from the ceiling and help create a feeling of greater height. We also added a piece of molding at the break as well. It worked well.
The beadboard also allowed us to frame in and create access panels for storage under the eaves. This allowed for a tremendous amount of storage space that could be filled with bins of various items the homeowner stored in the attic. The access panels are attached with magnets to make it easy to open and remove when necesary.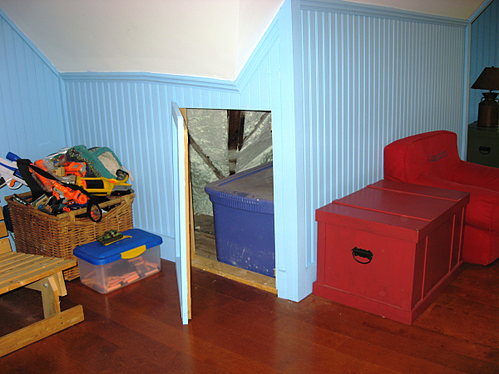 Clear birch doors were added as well as square base trim and casing. finally the stair railing were installed. These use cable rails and maple posts for s simple open see through look. The stairs are pine treads to match the rest of the house.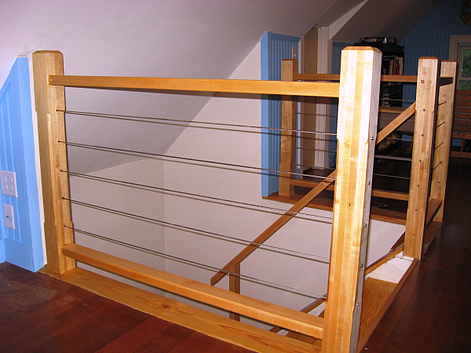 Recessed lights were installed in the flat of the ceiling and cable and internet access was wired to make the space modern and functional.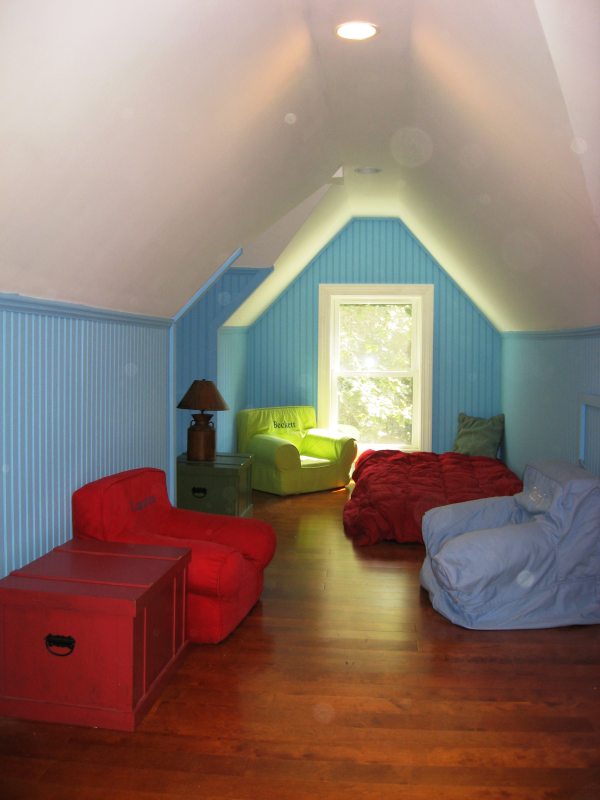 After painting the space is extremely comfortable, energy efficient and fully finished. What a great way to add space to a home!
Products Used: