I am a building contractor specializing in residential design build projects including custom homes and fine remodeling projects. All of our projects are designed with the latest in building science in mind, especially with energy efficiency as a top priority. A year ago I decided to add a solar system to the barn where my office is located to provide power to my office as well as my home.
My solar system was operational mid February 2014. I have monitored the results very closely. I now have over 8 months of date to share. The system has performed as anticipated and actually brought me to net zero electricity use this summer!
I have three primary means of monitoring the performance of my solar system. First and foremost, I have the Enlighten Manager from Enphase Energy. This is the monitoring system that was installed with my solar system that is connected to my panels and meter and sends data to software on my computer that allows me to see in real time how the system is performing, how much energy it is producing at any given point in time, and even how each individual panel is operating. For me the most relevent perspective is the daily, weekly and monthly comparisons. Below you can see today, past 7 days, month to date and lifetime results.
791 W
Thu Nov 20, 2014 08:35 AM

36°F
26 Microinverters
1 Envoy
Bolton, MA

System Normal
Full System
Today
635
Wh
Peak Power:
791

W

at 8:35 AM
Latest Power:
791

W

at 8:35 AM
Lifetime
I can also look at a year to date chart such as this, which show the peaks and valleys of soalr power produced throughout the year: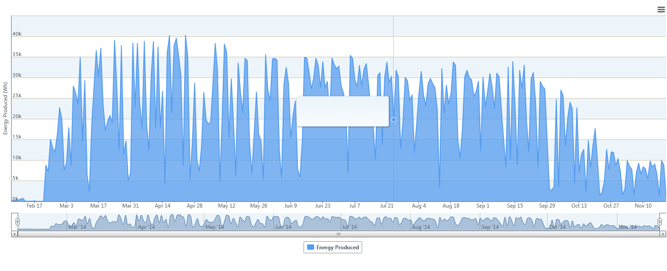 You can see that power was lower in Feb and Mar and then ramped up from April through Septemebr and in October started to go down significantly.
The second system that I use monthly is the Production Tracking System (PTS) at the Mass Clean Energy Center. This is where I enter the results I read off my meter each month to track the amount of kWh produced each month. This is the input source that will lead to the generation of my SREC payments that you receive in Massachusetts for the clean energy you produce. Each 1000 kWh generates one SREC payment. From this system I can go back and run a report to show the monthly production of my system:
Production by Month - All Systems
| | | | | |
| --- | --- | --- | --- | --- |
| Production Month | Energy Produced (kWh) | Maintenance Activities | Service Costs | Hours of Downtime |
| February 2014 | 157.00 | 0 | $0.00 | 0.0 |
| March 2014 | 557.00 | 0 | $0.00 | 0.0 |
| April 2014 | 763.00 | 0 | $0.00 | 0.0 |
| May 2014 | 609.00 | 0 | $0.00 | 0.0 |
| June 2014 | 897.00 | 0 | $0.00 | 0.0 |
| July 2014 | 775.00 | 0 | $0.00 | 0.0 |
| August 2014 | 641.00 | 0 | $0.00 | 0.0 |
| September 2014 | 789.00 | 0 | $0.00 | 0.0 |
| October 2014 | 366.00 | 0 | $0.00 | 0.0 |
So you can see that my 6.5 kWh DC, 5.85 kW AC system has produced 5554 kWh in 8.5 months with a peak of 897 kWh produced in July, a full month low so far of 366 kWh in October and an average of 674 kWh per month after discounted the partial month of Feb. We know the winter months will be smaller production months while the sun is lower and farther away, but you can clearly see the output of my system will exceed the 5.85 kW rating. Whether I achieve the 8,488 that was predicted on install remains to be seen.
The third and perhaps most rewarding means of monitoring my system is my monthly electric bill from National Grid and the corresponding Home Energy Report. The bill shows the total kWh usage for the month. Upon installation I could see immediately that my energy use was significantly lower than in previous years and by June 1 was producing more energy than I used, so my bill showed a credit and negative kWh usage. That was very exciting. Then I received the Home Energy Report that reported that my home was ranked #1 out of 100 neighbors in nearby homes of similar size. I had previously been as high as number 80, so this was to me another validation that the system was working well and I was using much less electricity off the grid.
I won't be net zero for the year, as I use more electricity in the winter for the high efficiency ductless heatpump to heat my office. I do hope that I produce 60% or more of my electricity use for the full year. In fact, I am adding 5 additional panels this winter, to increase my system size by 20% to attempt to achieve even better results.
The results clearly bear out my conviction that solar systems work well and allow us to minimize our dependence on the grid and in many case help homes achieve net zero status. Now, more than ever, is the time to add solar panels to produce your own clean energy from the sun! Contact me if you would like to hear more about my experience and if oyu are interested in installing a system at your home.